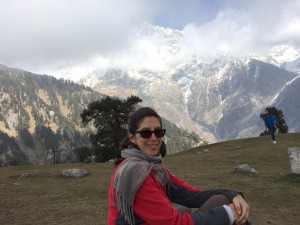 THIS MONTH'S VOLUNTEER STORY
Volunteer job at Lha: English teacher
Back home, in Ecuador, I got caught up in stress and the normal anxiety of a busy life. I felt I needed a break to get some perspective so I decided to leave it all, listen to my heart and pursue a crazy dream I have had for a couple of years: come back to India. I had been in India before. Eight years ago I came for the first time to visit the Buddhist monasteries of Ladakh and the Spiti Valley. It was an incredible experience and I became even more fascinated than I already was with Buddhism and Tibetan culture.
This time around I knew I wanted to volunteer and spend time in a place where I could learn more about Buddhist philosophy, so Mcleod Ganj seemed like the perfect place. I got here at the beginning of February. It was really cold and the town seemed much more busy than I expected. In my head I imagined McLeod more like a village with a Ladakhi landscape. I spent my first week here exploring the place and getting more familiar with my home to be for a few months. Even though McLeod turned out to be different from what I had expected, I found here a peaceful place, filled with generous people and an amazing landscape.
I started my volunteer job at Lha with the conversation classes and was fascinated by the eagerness of Tibetan refugees to learn English and about different cultures around the world. They were very curious about my way of life back in Ecuador, my religious beliefs and why I had come here. I was in the same way curious about them and their culture, so it was a very rewarding experience. After a few days I started teaching the beginners course in English, which was a very different experience from the conversation classes, but for me, even more rewarding. When I'm teaching I feel I am really making a difference in some of these people's lives. They are so invested in the learning process and they give their all to improve their abilities, so I feel I have a big responsibility. I know most of them have gone through very difficult experiences getting out of Tibet and coming to a country where most of them have to face life on their own, sometimes at a young age. I think all these circumstances make them take the opportunities that institutions like Lha give them very seriously, but I'm always impressed about how in spite of all the hardships, they seem to be able to keep this joyful look on their faces.
The experience of being a volunteer and the contact with the refugees has helped me overcome all the stress I was having back home, specially because volunteering means working for the benefit of others without expecting anything in return. This is exactly the opposite of how many of us experience life. Usually working means getting money, enhancing our resumé, getting recognition, and so on, which are normally related with what we think constitutes being successful and happy. Now I think that the more we do things to help others, the happier we become.
What has been an amazing experience for me as well is meeting people from all around the world, other volunteers, each one on his or her own journey. Our stories, even though each one is unique, every time I am more convinced that they are the same. We are all seekers. Most of us have left our home countries looking for something we can't describe. At least for me, this place and my experience as a volunteer has helped me discover what I was looking for: that happiness is to be found within oneself.